Weight Loss Diet Plan

Weight loss is definitely a difficult task to accomplish, but sometimes people make it more complicated by counting every calorie. Of course, there's no magic tip that can do the job instantly, but you definitely don't need to strip your diet of entire food groups for losing weight.

The fact is that no matter whether you intend to lose 5kg or 15kg, the quantity of weight you lose is determined by the same principles. So, instead of adopting a radical approach, you should try to introduce a series of healthy habits into your daily routine. According to dietplusminus, to lose weight fast you should first understand what might lead to weight gain.
What Leads To Weight Gain?
So, what exactly might cause you to gain that excess weight? Well, there's only one reason (except for medical conditions) that causes people to gain excessive weight and hinders the weight loss process as well. It's the bad habits, eating what you shouldn't, and not eating what you should, having an excess of something unnecessarily, etc.

Say, for example, eating too much processed foods, or sugar can lead to excessive weight gain. Maybe, you are confusing 'fat-free' with 'calorie-free'. Or you just eat without thinking when you had these eating fits out of nowhere.

Simply put, there are two main things that will determine your weight- the number of calories you take in and the number of calories you burn, on a daily basis. Apart from all this, your genetics can also play a role in both weight gain and weight loss.
Why Should You Lose Weight?
It is indeed a valid question as to why should you actually consider losing weight even though you're perfectly comfortable being chubby. Well, there's actually just one reason, but it's pretty serious. If you are overweight or obese, this means you are at a higher risk of some potentially serious health problems like high blood pressure, heart disease, stroke, type 2 diabetes, osteoarthritis, back pain, and even some types of cancer!

So, basically you are a ticking time bomb! Nah, just kidding, you are as fine as anyone else but definitely there are these potential risks to consider. You should know that these risks are directly proportional to the amount of excess weight that you have. More excess pounds mean the deadlier potential risks you face. Therefore, for the best of your health, you should set out on the journey of weight loss to lose those extra pounds.
---
Click below to know how and why our program is important for you?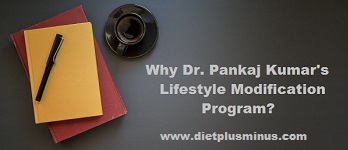 ---
Some Pro Tips To Lose Weight
The number one thing, as suggested by dietplusminus, that you need to do is to stick to a proper diet plan to lose weight.

To lose weight fast, you should try to burn more calories than you eat in a day. You should consider weight loss exercises for this purpose, so you can join a gym to go the extra mile.

Introduce fat burning foods into your daily diet.

Also, your diet should be high in protein, but low in carbohydrates. Simply put, say no to sugar or at least eat as much less sugar as possible.

You should drink lots of water and other liquids. You should also introduce coffee and green tea in your drinks.
---
---
Useful Links:
Register/Login ♦ Blog ♦ Subscription Plans ♦ Calculator ♦ Exercises ♦ All Testimonials ♦ Before and After ♦ Recipe ♦ Amazon Pantry
♦ Amazon Daily Deals ♦ Shop with Amazon ♦ Disclaimer ♦ Privacy Policy ♦ Terms and Conditions ♦ Facebook ♦ Twitter ♦ Linkedin ♦ Youtube