Ketogenic Diet (Keto Diet)
The ketogenic diet is a very low-carb, high-fat moderate-protein diet. Low carbohydrate generates ketones and puts you in a ketosis state. It is efficient at burning fat for energy. A ketogenic diet normalizes blood sugar and insulin levels. The keto diet is very beneficial for overweight or obese, diabetic, and for people who want to improve their metabolic health. It may be less useful for people desiring muscle or weight gain, like for elite athletes. It may not be suitable for some people's lifestyles and preferences. Must consult your doctor about your eating plan and goals. Let him decide if a keto eating plan is right for you.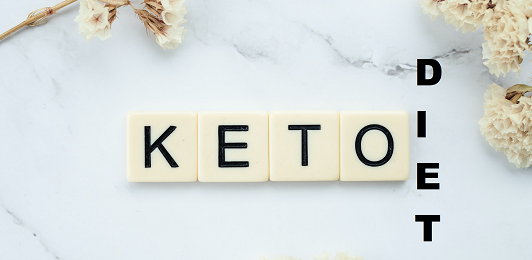 ---
---
Frequently asked questions on the keto diet

Here are answers to some of the most common questions about the ketogenic diet.

1. Can I eat carbs in near future?



Yes, you can. Initially, it's very important to reduce your carbs significantly. After 2 to 3 months, have controlled amounts of carbs on special occasions and return to your diet immediately.
2. Will there be muscle loss during the keto diet?



Yes, there is always a risk of muscle loss during any diet. But

protein intake

in appropriate amounts and high ketone levels minimizes muscle loss, especially if you

lift weights

.
3. Can muscle build if I am on a keto diet?

Yes, but not as well as on a moderate carbs diet.
4. What will be the proportion of protein in my diet?

Always take protein in a moderate amount during the keto diet, as very high protein will liberate glucose and will spike insulin levels and lower ketones. Your protein intake must not increase more than 35% of your total calorie intake.
5. I am constantly tired, weak, or fatigued. How to come out of this?

Your body may not be utilizing fats and ketones efficiently, i.e. not in full ketosis. Lower your carb intake. You may take MCT oil or ketones supplements to reveal these problems.

6. Why my urine smells fruity?



The fruity smell of urine is just due to the

excretion of by-products

created during ketosis. There is nothing to worry about as such.
7. What may I do to stop breathing smells?

Breath smell is a common side effect of the keto diet. You may try some naturally flavored water or sugar-free gum to get rid of this.



8. Is ketosis extremely dangerous?

No, but ketoacidosis is dangerous. Ketosis on a ketogenic diet is usually fine for healthy people. People often confuse ketosis with ketoacidosis. Consult your doctor before starting any new diet.



9. I am suffering from diarrhea and digestion issues. What to do in such a situation?

This is a

common side effect

of the keto diet, which usually starts post 3 to 4 weeks starting the diet. If the symptoms persist, take more

high-fiber vegetables

.



10. What is the maximum dose of MCT oil per day?
MCT oil doesn't have a defined tolerable upper intake level till now, but a maximum daily dose of 4–7 tablespoons (60–100 mL) has been suggested.