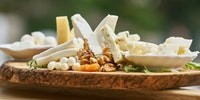 Which cheese is better? Cheddar, Mozzarella, Feta, Cottage, Ricotta or Blue Cheese?
Cheese: An Overview
Although the taste of cheese is lovable for everyone, they hate it because it can make them fat and can cause heart disease.
Actually, the truth is cheese is a whole food. Whole foods are normally good for you, as long as they are taken in a controlled amount. You just need to make healthy choices about eating cheese.
Cheese: the whole making procedure
The whole making procedure of cheese has 10 essential steps:
Milk preparation: Milk needs to be processed, before transforming into cheese.

Adding culture or acidifying: Adding cultures start the fermentation of milk and make it more acidic.

Curdling the milk: Adding rennet causes curdling of milk.

Cutting the curd: Following that, the cheesemaker cuts the curd with knives and heats it, further separating the curds and whey.

Processing of curd: Curd is processed by several procedures, like stirring, cooking, and washing continues to acidify and dry the curds.

Draining of whey: Next to that, the whey is drained, leaving only a mat of cheese curds.

Cheddaring of cheese: After draining the whey, the cheesemaker next cuts the curd mat into sections and repeatedly flips the sections before milling the mat.

Salting the cheese: For some cheese, the next is dry salting, and for others, it is brining.

Shaping of cheese: Following that, the cheesemakers shape the cheese, often using molds.

Aging of cheese: Some cheeses are aged for anywhere from several days to many years.
Health benefits of cheese
Cheese is rich in calcium, protein, and fat. It is also a great source of vitamins A and B-12, along with zinc, phosphorus, and riboflavin.
Cheese made from 100% grass-eating animals is comparatively high in nutrients, containing omega-3 fatty acids and vitamin K-2.
According to several studies, cheese, and dairy products, in general, protect your teeth from cavities.
Conjugated linoleic acid (CLA)
Conjugated linoleic acid (CLA) is found in fewer amounts in high-fat cheese like blue cheese, brie, and cheddar cheese.

According to various studies, CLA may help prevent obesity, heart disease, and reduce inflammation. Cheese and high-fat dairy products from 100% grass-eating animals contain more CLA.

Fermented dairy products like yogurt and cheese even have a positive effect on cardiovascular health.

Unfortunately, during pasteurization using high heat, some good bacteria and enzymes are reduced significantly.
Risks associated with cheese consumption
As cheese contains lactose, it can create problems in lactose-intolerant people. Too much consumption of cheese in lactose-intolerant people can lead to digestive problems like gas and bloating. People with lactose intolerance can consume Parmesan cheese, having very low lactose content.
People allergic to casein, the main protein found in milk, can also face problems after the consumption of cheese. Unfortunately, low-lactose cheese wouldn't help regarding this issue.
Cheese is a high-calorie food. So, it should be taken in a controlled amount.
Cheese is high in sodium, so overeating can create issues in people with high blood pressure.
Since cheese contains saturated fat, it is advised by experts to take in a limited amount.
In addition to being loaded with saturated fat, cheese is devoid of fiber. Excessive intake can cause constipation.
Nutritional facts of some cheese
There is a wide variation in the nutritional profiles of various types of cheese. Let's discuss a few of them:
Nutritional facts of some cheese

Type

Amount (ounce)

Calories

Carbs

Fat

Protein

Calcium

Sodium

Brie

1

100

1 g

9 g

5 g

150 mg

170 mg

Cheddar

1

120

1 g

10 g

7 g

200 mg

190 mg

Feta

1

60

1 g

4 g

5 g

60 mg

360 mg

Gouda

1

110

1 g

9 g

7 g

200 mg

200 mg

Mozzarella

1

85

1 g

6 g

6 g

143 mg

138 mg

Swiss

1

100

1 g

9 g

5 g

150 mg

170 mg

In Short:
Normally, cheese is a healthy and delicious option in regards to many nutrients. What matters is the consumption of cheese is, what is under your cheese. Salad or vegetables are good options but, pizza crust, crackers, tortilla chips, and bread can cancel the goodness of whole food "cheese".
In some parts of the world called "Blue Zones", where people live the longest, they eat small amounts of full-dairy products, large amounts of fruits, vegetables, legumes, whole grains, olive oil, and seafood.
Let's discuss the healthiest cheese
Cheese comes in hundreds of different textures and flavors.
Cheese is made by aging and processing the solid parts of milk, formed by adding acid or bacteria to milk.
The type of milk used and the process used for making cheese decide its taste and nutrition.
Although cheese is an excellent source of protein, calcium, and several other nutrients, it is also high in calories, fat, and sodium.
However, cheese may even aid weight loss and prevent heart disease and osteoporosis.
Let's compare the nutritional constituents of some healthier cheese
Mozzarella is a soft cheese. It is lower in sodium and calories than most other cheeses. It may boost your immunity because of its probiotic content.

Blue cheese is high in calcium, making it beneficial for bone health and preventing osteoporosis. It has distinctive blue or grey veins and a tangy taste.

Feta is higher in salt but lowers in calories as compared to other cheese. It originated in Greek. It may also contain higher amounts of CLA, a fatty acid linked to improved body composition.

Cottage cheese is high in protein. It is fresh & clumpy cheese. Adding cottage cheese to your diet can help keep you full and may aid in weight loss.

Ricotta has high-quality whey which may promote muscle growth and help lower blood pressure. It is a creamy white cheese high in protein.

Parmesan cheese is low in lactose, making it ideal for people having lactose intolerance. It is high in calcium and phosphorus, which may promote bone health.

Swiss cheese has less fat and sodium as compared to most other cheese. This makes it perfect for people with high blood pressure.

Cheddar is rich in vitamin K2. Vitamin K2 prevents calcium from building up in your arteries and veins. Getting enough K2 may decrease your risk of heart disease.

Most of the cheese is a good source of protein and calcium. It offers additional health benefits also. Certain cheeses may provide nutrients to promote gut health, aid weight loss, improve bone health, and decrease your risk of heart disease.

Some cheeses are high in fat and sodium. So, keep an eye on your intake. Overall, cheese can be a great addition to a healthy, tasty, and balanced diet.
Comparison of some healthier cheese based on their nutrition

Type of Cheese

Amount

Calories

(Cal)

Protein

(g)

Fat

(g)

Carbs

(g)

Sodium

(mg)

Calcium

(% of RDI)

Mozzarella

1 oz

85

6

6

1

176

14

Blue Cheese

1 oz

100

6

8

1

380

33

Feta

1 oz

80

6

5

1

370

10

Cottage cheese

110 g

120

12

7

3

500

10

Parmesan

1 oz

110

10

7

3

330

34

Swiss

1 oz

111

8

9

<1

53

25

Cheddar

1 oz

115

7

9

1

180

20

Ricotta

124 g

180

12

12

8

300

20
---
---